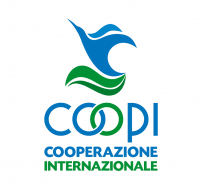 COOPI Cooperazione Internazionale is an humanitarian, non confessional and independent organization that fights against all kinds of poverty to make the world a better place. Founded in 1965 by Vincenzo Barbieri (Italian "father" of international volunteering), COOPI is based in Milan and it has 20 local offices in the South of the World. It works to assist populations struck by emergencies (disasters and conflicts) and to facilitate their civil, economic and social development. The association intervenes in Africa, Latin America and the Middle East in collaboration with local actors (civil society, public administration and so on). In 2013 it has implemented 160 projects. COOPI works in different sectors: agriculture, water and sanitation, health care, humanitarian assistance, human rights, education, socio-economic services, migration. All sectors are related to one another in the programs launched by COOPI all of them interrelated. COOPI is also committed to the Child Sponsorship programme in 8 countries (Perù, Haiti, Senegal, Sierra Leone, Central African Republic, Ethiopia, Uganda and DR Congo), and provides food, education, health and protection to 2.700 children. COOPI also operates in Italy, through awareness and fund-raising campaigns, volunteering activities (almost 400 volunteers), the promotion of the Cooperation and Development Master course at the Institute for Advanced Study of Pavia, and finally the participation to several NGOs associations, among which Link 2007 and AGIRE (Italian Humanitarian Emergency Response Agency) are the most important. The organization is supported by important institutional donors, local institutions, foundations, companies and citizens among the main donors, the European Commission Humanitarian Aid and Civil Protection (ECHO) recognizes COOPI as an important partner.
Job Type: Full Time
Qualification: MBA/MSc/MA
Experience: 5 years
Location: Yobe
Job Field: Project Management
Purpose of the role
The role will specifically support the EU-funded Building Resilience in Complex Crisis (BRICC) Support for early recovery from conflict and resilience building in Yobe State, while also supporting the development of the overall portfolio of COOPI's activities in the Northeast.
Responsibilities
Project Management
Under the direct supervision of the Head of Base and in link with the Program Manager and Head of Mission, provide overall managerial oversight to the project and support project implementation team;
Ensure cross-departmental coordination including consortium partners' components such as conflict management, social protection and livelihoods;
Work with consortium lead and partners to maintain and update project implementation plan;
In cooperation and synergy with the project staff, plan and monitor the social protection, conflict management, social protection and livelihood activities' progress; In collaboration with the Program Manager and Head of Base, prepare all the formal communication and contract modification requests of the project;
Ensure smooth management of COOPI base;
Put in place and follow in accountability beneficiaries feedback's mechanism;
Represent COOPI with the local / State authorities, consortium lead and partners;
Work closely with the team to drive critical assessment during inception phase including baseline, market and value chain assessment and mapping exercise;
Project Monitoring
In collaboration with the Administrative and the Logistics team, plan and monitor the expenditures in line with the project's implementation needs;
In cooperation with the Program Manager, finalize the data provided by the team, support the preparation, in compliance with the deadlines, of the narrative reports expected by the donors and by the partners;
Work closely with Monitoring, Evaluation, and Learning Advisor hired by lead consortium partner that to ensure oversight for all monitoring and evaluation across all activities and implementation;
Monitor the accuracy and efficiency of activities;
Ensure compliance with the fund and timely fulfillment of project's reporting requirements.
Logistics Management
Liaise with logistics / procurement team to ensure the goods purchased for the project;
Support to update the inventory and guarantee the respect of the policies and guidelines, in cooperation with the Logistics Office;
Ensure safety of staff and beneficiaries and work closely with COOPI Security Manager and Logistic team.
HR Management
In coordination with the administrative team, support in hiring of new staff directly related to the project and conducts staff appraisals Upholds COOPI's mission and Charter of Values;
Supervise the overall effectiveness and efficiency of the staff;
Follow and enforce all COOPI codes of conduct and policies
Safety/Security
Analysis, identification, quantification and, through line management, mitigation of assessed risks;
Maintenance of updated security plans;
Development and maintenance of security network at field level;
Responsible for decisions regarding the Security and Safety of AAH premises and staff in AoR;
Closely coordinate with Crisis Management Team for any developments on the security situation;
Brief all staff on security and context changes as needed.
Others
Supervise the Protection team to ensure protection mainstreaming;
Execute any other task necessary to good and timely completion of the projects, identified in mutual agreement;
Work closely with communication team;
Any other duties as requested by the supervisor.
Requirements
Essential
Master's Degree in Humanitarian / Development Studies / Social Sciences or any related field;
At least 5 years of working experience in / with INGO on Protection, WaSH, Social Protection, Conflict Management & Peace Building and Livelihoods / FSL area, Cash Programming;
Experience in managing USAID/BHA, EU, ECHO and other key donor funded projects;
Proven interest & commitment to humanitarian and development principles and a demonstrable understanding of conflict/post conflict development contexts;
Expertise in sustainable livelihoods, safety nets programs, in particular;
Ability to plan, organize work, communicate and reports effectively (both in writing and verbally);
Experience in data collection, analysis, and report writing including post-distribution monitoring (PDM);
Excellent in written and spoken English;
Demonstrated success in community resilient programs and technically sound in Cash transfers, capacity building and other social protection components;
Proven commitment to accountability practices;
Excellent Microsoft Office applications skills;
Knowledge of and adherence to Code of Conduct, understands other international development guidelines.
Desired
Experience in managing Protection, WASH and livelihood development activities as a plus;
Ability to function effectively under stressful conditions such as heavy workloads, and deadlines;
Excellent communication skills, calm, with a good sense of working in inter-cultural environment;
Ability to plan, organize work, communicate and reports effectively (both in writing and verbally);
Proven ability to prioritize tasks and meet deadlines;
Team player, effective communicator, successful negotiator, creative and analytical thinker, active learner, able to work in a multicultural environment.
Method of Application