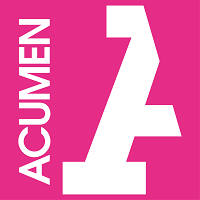 Acumen was incorporated on April 1, 2001, with seed capital from the Rockefeller Foundation, Cisco Systems Foundation and three individual philanthropists. Our desire was to transform the world of philanthropy by looking at all human beings as members of a single, global community where everyone had the opportunity to build a life of dignity. Acumen is changing the way the world tackles poverty by investing in companies, leaders, and ideas. We invest patient capital in businesses whose products and services help people living in poverty to transform their lives.
We are recruiting a committed and enthusiastic Investments candidate to fill the position below:
Job Title: Investments Associate, West Africa
Location: Lagos, Nigeria
Report to: The Associate Director for Investing in West Africa
About Acumen West Africa
The Investments Associate will be joining a small team managing and building a portfolio of game- changing companies focused on tackling poverty in West Africa. Since 2012, Acumen West Africa has invested in 12 companies reaching over 23M lives in the region.
We are committed to the principles of inclusive capital and to growing a portfolio of locally founded businesses.
The team is responsible for managing investments and finding, vetting and structuring new investments in companies that serve low- income West Africans in our two sectors of focus: Energy and Agriculture.
The Role
The Investments Associate will source and evaluate new investment opportunities, conduct due diligence on high potential opportunities, and assist with structuring deal terms and presenting to the Investment Committee.
The Investments Associate will use their analytical skills to evaluate the growth and return potential of companies from both a financial and social impact perspective.
The Investments Associate will support data collection, analysis and reporting related to Acumen West Africa's investment portfolio and its performance, fundraising and strategic partnership initiatives, and management of portfolio operations.
They will contribute to actively building and cultivating Acumen West Africa networks in the impact investing communities and will contribute to developing insight and communication pieces for external audiences.
The Investments Associate will support the coordination of Acumen West Africa's impact assessments, liaising with investee companies, the Insights and Strategy team, and external impact vendors.
Responsibilities
Specific responsibilities include but are not limited to:
Identifying investment opportunities and due diligence:
Identifying, cultivating, and reviewing a pipeline of early-stage investment opportunities providing critical services to communities in West Africa
Conducting due diligence and investment analysis, including financial modeling, valuation review and structuring
Preparing investment documentation for review by the Investments team before it is presented to the Acumen West Africa Investment Committee
Operations:
Work with the Acumen West Africa team to:

Collect, extract and document investment-specific and general insights from Acumen's investments.
Analyze metrics data to identify patterns; and
Channel that data to outputs for investment decisions, marketing, and fundraising
Impact Assessments:
Work as coordinator of relevant impact assessments undertaken by Acumen West Africa, liaising as needed, with relationship managers, investee companies, global Insights & Strategy team and External service providers.
Qualifications & Skills
Bachelor's Degree in Actuarial Science, Business Administration, Economics, or any related.
At least 4 years of experience in venture capital, private equity, or investment banking; management consulting or investment management, including experience with financial and operational due diligence of early-stage.
Superior financial and business analysis.
Excellent written and oral communication skills; ability to present arguments and analysis to Acumen management, partners, and investees.
Ability to take initiative with research and analysis and produce valuable results in conditions of.
Familiarity with the social enterprise and impact investing sectors; demonstrated commitment to tackling challenges of poverty is preferred.
Self-reflective and aligned with Acumen.
Permanently authorized to work in Nigeria.
Application Closing Date
Not Specified.
Method of Application
Interested and qualified candidates should: