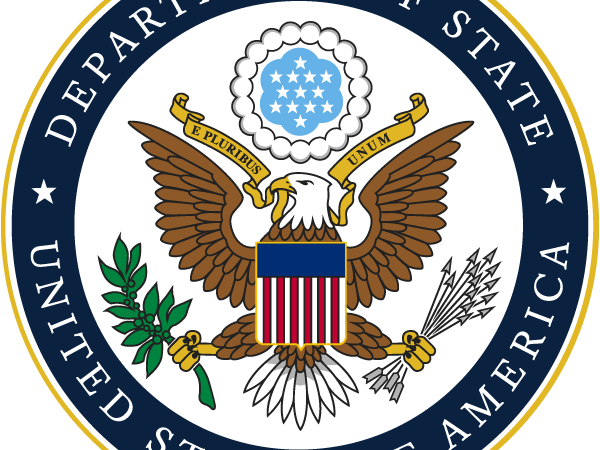 The U.S. Mission to Nigeria comprises of the Embassy in Abuja, FCT, and the Consulate General in Lagos. U.S. Consulate General Lagos is the Mission's representative to the Nigerian people in the southern region.
We are recruiting to fill the position below:
Job Title: EFM Acquisition and Assistance Specialist – DOS & USAID USDH AEFMs Only
Announcement Number: Abuja-2023-059
Location: Abuja
Work Schedule: Full-time – 40 hours per week
Hiring Agency: Embassy Abuja
Series / Grade: FP – 0810 5
Promotion Potential: FP-5
Overview
Hiring Path: Open to the public
Who May Apply/Clarification From the Agency:

Appointment Eligible Family Members (AEFM) of DOS and USAID U.S. Direct Hires Only
FS is 05. Actual FS step in grade will be determined by USAID Headquarters. (see hiring preference in other information section).

Security Clearance Required: Public Trust – Background Investigation
Appointment Type: Term appt, NTE 2 yrs
Appointment Type Details: Definite not to Exceed 2 years
Summary
The work schedule for this position is: Full Time (40 hours per week)
Start date: Candidate must be able to begin working within a reasonable period of time (6 weeks) of receipt of agency authorization and/or clearances/certifications or their candidacy may end.
Supervisory Position: No
Relocation Expenses Reimbursed: No
Duties
The Acquisition and Assistance Specialist (Entry Level/EL) is located ln the Regional/Mission Office of Acquisition and Assistance.
The function of the Office is to provide Acquisition and Assistance (A&A) support to Technical Offices and Development Objective (DO) Teams in the Mission, and in any Offices that may be supported by the Mission.
The primary purpose of this position is to support the cognizant Mission Contracting/Agreement Officer, by performing a variety of A&A duties including, writing grants, cooperative agreements, contracts, and other procurement instruments, and preparing amendments/modifications to such instruments in support of the Mission.
The Specialist reviews and recommends approval or revision of requisitions in the Global Acquisition and Assistance System (GLAAS); reviews and recommends approval or revision of statements of work (SOW); drafts A&A solicitation documents; performs cost and price analysis; analyzes A&A offers or applications received; drafts A&A award instruments and modifications; analyzes budgets; recommends special A&A award requirements; writes memoranda of negotiation; and, prepares other required documentation.
The Specialist maintains up-to-date A&A files and records, manages Contractor Performance Assessment Reports (CPARs), and supports award closeout.
The Specialist provides guidance to supported Teams related to A&A award modifications.
The Specialist is responsible for carrying out day-to-day activities under the mentorship of more senior Office employees.
Qualifications and Evaluations
Education Requirements:
A Bachelor's Degree in Business Administration, Public Administration, Accounting, Economics, Finance, Marketing, Commerce or Law is required.
Experience:
A minimum of three (3) years of progressively responsible experience in acquisition and assistance, development assistance, or a position that requires closely related skills, such as program management, law, or financial management, is required.
One (1) year of this experience must have been gained working in a position equivalent to responsibilities in this job description or an occupation that requires similar skills.
At least two (2) years of this experience should have been with an international/local organization, U.S. Government department or agencies or other international development organizations within the A&A landscape.
Job Knowledge:
Knowledge of public and/or private-sector business processes, or the ability to quickly gain such knowledge, is required.
An understanding of USG A&A regulations and policies, and/or knowledge and understanding of how to execute and administer a complex acquisition and assistance portfolio, and/or the ability to quickly gain such understanding, is required, particularly as it relates to acquisition through methods of negotiation, sealed bidding, simplified acquisition procedures, and that result in standard and established contract types.
General knowledge of office management procedures and specialized knowledge of administrative work is required.
Working knowledge of standard software packages utilized by USAID, including Microsoft Word, Excel, and the ability to do research on the internet is required.
Language:
Fluent level in speaking, reading and writing English is required. (This may be tested).
Skills and Abilities:
The ability to plan and administer simple A&A activities and provide A&A support for Agency programs and projects in a timely manner, is required.
The ability to apply contracting and assistance regulations, procedures, and policies to acquisition and assistance programs involving few complexities, is required.
Skill in solving practical problems relating to A&A is required. An ability to deal effectively with mid- to high-level representatives of the US, local, and regional business community, and with colleagues in USAID Missions and/or host governments throughout the region, is required. Skill in the use of most elements of the Microsoft Office suite is required.
Good analytical, negotiating, and time management skills, along with strong proofreading skills and attention to detail, are required.
The ability to work calmly, tactfully, and effectively under pressure is essential, as well as the ability to maintain strict Confidentiality, and meet all Standards of Conduct/Ethics Standards in accordance with US Jaw throughout all phases of the A&A process, is required.
Demonstrated ability to organize and manage A&A actions and filing systems effectively; ability to deal effectively with mid and high-level officials of agency/host government/private sector is required.
Must have analytical skills in order to determine applicability of USAID regulations pertaining to filing and closeout of A&A actions.
Must have the ability to learn federal acquisition regulation and code of federal regulation with respect to procurement rules and regulations.
Equal Employment Opportunity (EEO):
The U.S. Mission provides equal opportunity and fair and equitable treatment in employment to all people without regard to race, color, religion, sex, national origin, age, disability, political affiliation, marital status, or sexual orientation.
Qualifications:
All applicants under consideration will be required to pass medical and security certifications.
Benefits and Other Info
Benefits
Agency Benefits:
Locally Employed Staff, including Members of Household (MOHs), and Third-Country Nationals (TCNs), working at the U.S. Mission in Abuja, Nigeria may receive a compensation package that may include health, separation, and other benefits.
For EFMs, benefits should be discussed with the Human Resources Office.
The pay plan is assigned at the time of the conditional offer letter by the HR Office.
Other Information:
For the current COVID-19 Requirements please visit the following link.
Hiring Preference Selection Process: Applicants in the following hiring preference categories are extended a hiring preference in the order listed below. Therefore, it is essential that these applicants accurately describe their status on the application. Failure to do so may result in a determination that the applicant is not eligible for a hiring preference.
Hiring Preference Order:
AEFM / USEFM who is a preference-eligible U.S. Veteran*
AEFM / USEFM
FS on LWOP and CS with reemployment rights **
* Important
Applicants who claim status as a preference-eligible U.S. Veteran must submit a copy of their most recent DD-214 ("Certificate of Release or Discharge from Active Duty"), equivalent documentation, or certification.
A "certification" is any written document from the armed forces that certifies the service member is expected to be discharged or released from active duty service in the armed forces under honorable conditions within 120 days after the certification is submitted by the applicant.
The certification letter should be on letterhead of the appropriate military branch of the service and contain (1) the military service dates including the expected discharge or release date; and (2) the character of service. Acceptable documentation must be submitted in order for the preference to be given.
** This level of preference applies to all Foreign Service employees on LWOP and CS with re-employment rights back to their agency or bureau.
For more information (i.e., what is an EFM, USEFM, AEFM, MOH, etc.?) and for additional employment considerations, please visit the following link.
Marketing Statement:
Salary
USD $50,662 annually.
Application Closing Date
19th June, 2023.
How to Apply
Interested and qualified candidates should:
Important Information
To apply for this position click the "APPLY TO THIS VACANCY" button at the top of the page.
Click on the "Submit Application" button to complete your application process. For more information on how to apply visit the Mission internet site.
Required Documents
To qualify based on education, you MUST submit the requested degree and / or transcripts as verification of educational requirement by the closing date of this announcement. Failure to provide requested information, or the information is insufficient to verify eligibility, may result in disqualification for this position.
All Applicants:
Residency and/or Work Permit
Degree
Eligible Family Member Applicants:
Copy of Sponsor's Orders/Assignment Notification (or equivalent)
Passport copy
DD-214 – Member Copy 4, Letter from Veterans' Affairs, or other supporting documentation (if applicable)
SF-50 (if applicable)
Next Steps:
Applicants who are invited to take a language or skills test, or who are selected for an interview will be contacted via email.
For further information – the complete position description listing all of the duties, responsibilities, required qualifications, etc. may be obtained by contacting the Human Resources Office.
Thank you for your application and your interest in working at the U.S. Mission in Abuja, Nigeria.