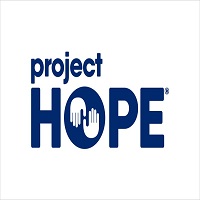 Project HOPE delivers essential medicines and supplies, health expertise and medical training to respond to disaster, prevent disease, promote wellness and save lives around the globe.Founded in 1958, Project HOPE (Health Opportunities for People Everywhere) is dedicated to providing lasting solutions to health problems with the mission of helping people to help themselves. Identifiable to many by the SS HOPE, the world's first peacetime hospital ship, Project HOPE now provides medical training and health education, as well as conducts humanitarian assistance programs in more than 35 countries. Over the past five decades, Project HOPE has demonstrated its ability to develop and permanently institute long-term solutions to pressing health problems, the true essence of helping people help themselves. Project HOPE remains as committed as ever to addressing the world's new health threats by playing a leadership role forging new alliances among those on the frontlines of health and together seeking new solutions.
Job Type Full Time
Qualification BA/BSc/HND , MBA/MSc/MA
Experience 10 years
Location Lagos
Job Field NGO/Non-Profit , Project Management
POSITION SUMMARY:
In collaboration with the Regional Director, coordinate and oversee administrative and technical implementation of programs in Africa as well as lead program development efforts. Facilitate communication between regional program and US staff to efficiently support program development, operations, headquarters requirements and donor needs. Provide day-to-day administration of assigned programs. Act as designee for the Regional Director, in his/her absence.
RESPONSIBILITIES:
Overall, takes on specific projects, beginning to end, with decision-making responsibility to achieve project goals. May provide day-to-day administration of assigned programs within region. Travels to program sites as designated by Regional Director, as necessary to support project staff and business development needs. Implements specific programmatic and/or regional action plans in collaboration with the Regional Director.
Business Development – program/proposal/budget development
Assess business development opportunities, coordinate and lead aspects of our preparations and response from start to finish.
Program Implementation – Provide leadership for oversight of program management and monitoring including problem identification and resolution.
Leads aspects of Financial Management/oversight and Human Resource management/team building
Organizational Representation and Communication
Maintains, initiates and generally Represents Project HOPE and its work in Africa with internal and external stakeholders.
Performs other duties as assigned.
ESSENTIAL SKILLS AND EXPERIENCE:
Medical Degree as well as master's degree in Public Health, business administration, such as MBA or MHA, required.
8+ years of experience, with USAID/Global Fund/PEPFAR.
Demonstrated experience as resource person for:

Development – program/proposal/budget development
Program Implementation – Program/project monitoring, problem identification and resolution
Organizational Representation and Communication
Financial Management and Human Resource management/team building

5+ years of direct managerial or supervisory experience, to include experience in staff interviewing and selection, staff development and related education requirements, orientation for new hires, and debriefing of separating staff.
10+ years of experience living and working in sub-Saharan Africa.
Fluency in English is required as well other language(s) from the continent preferred.

CHARACTERISTICS/TRAITS
Strong interpersonal and communication skills and the ability to work effectively with field and home office staff to ensure quality and productivity.
Demonstrated communication skills, verbal and written. Writing skills should include memorandum of understanding, proposal/grant writing, and routine program status and activity reports.
Strong financial management skills and capabilities, and strong analytical skills.
Proficiency with computers, both in word processing and spreadsheet programs, with presentation and report writing capability.
Able to manage multiple priorities, function as team/project leader, and work with a minimum of supervision and direction.
Think creatively and critically about programs and activities, in order to challenge the status quo and promote continuous improvement.
PHYSICAL DEMANDS AND WORK ENVIRONMENT:
Physical demands: Must be mobile in an office environment and able to use standard office equipment, must be able to communicate in verbal and written form, and must be able to travel internationally.
Work environment: While performing the duties of this job, the employee is exposed to weather conditions prevalent at the time. Typical office environment with exposure to a minimal noise level.
Travel up to 40% time