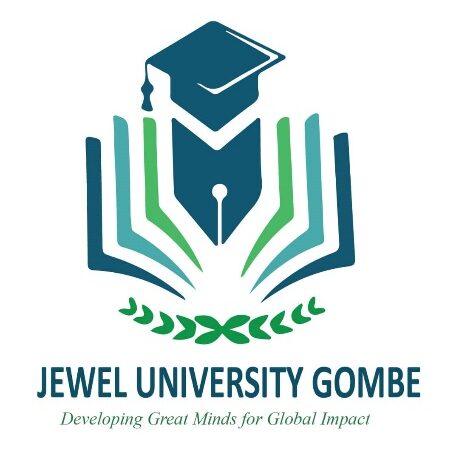 Jewel University Gombe (JUG) is a world-class University in Gombe State established to give quality education in different fields of study to Nigerian citizens. The vision of Jewel University Gombe is "to advance the intellectual growth of its students to the highest levels nationally and internationally through research and creative activity, teaching and learning, and civic engagement. The mission of the University is "to be a leading research institution recognized for the success of its students, its advances in health and life sciences, and its intellectual, economic, and cultural contributions to the well-being of the citizens of Nigeria and beyond.
Applications are invited from suitably qualified candidates to fill the position below:
Job Title: Academic Secretary
Location: Gombe
Qualifications
A candidate applying for the position must possess the following qualities and qualifications:
A Ph.D. or Master's Degree in either Sociology, Counselling and Psychology, Education Planning and Management, Human Resource Management, or related subjects, from a reputable University.
At least ten (10) years working experience in Institutions of Higher learning preferably in students' welfare, three (3) of which should have been at senior management level. Candidates must not be over 50 years of age.
Should have the ability to understand student behavioural patterns, group dynamics and inspire disciplined behavior among students.
Prior experience working in a high-paced and performance-driven environment.
Relevant experience working in a client driven environment.
Excellent communication (written and verbal) and ability to communicate clearly at different levels.
Should have broad knowledge of university procedures and regulations relating to student affairs.
Should have a broad knowledge of the process and practice of arbitration, mediation and facilitating negotiation.
Should have the ability to develop and establish extensive medium and long-term objectives, goals, strategies, and a course of action to accomplish requirements of the University relating to student's affairs.
Remuneration
The remuneration and other conditions of service shall be as applicable to the post of Academic Secretary in Nigerian Universities and as may be determined by the Governing Council of Jewel University from time to time.
Application Closing Date
5th July, 2023.
Method of Application
Interested and qualified candidates should submit twenty-five (25) hard copies of their Applications (Curriculum Vitae and photocopies of Certificates and Credentials), as well as a soft copy contained in a USB flash drive. The Curriculum Vitae should contain the following details:
Full names (Surname first)
Date of Birth
State of Origin
Nationality
Permanent home address
Current postal address including e-mail address and telephone contact
Marital Status
Names of children (with dates of birth)
Institutions attended (with dates)
Academic qualifications (with dates)
Professional qualifications (with dates)
Honours, distinctions and membership of learned societies and professional bodies.
Publications, discoveries, or inventions (providing all relevant details)
Work experience in the university system (providing names of the institution(s) and dates)
Details of administrative, fund-attraction and management experience in the University system
Specific services to local, national, and international communities (Providing dates, institutions/establishments, and status)
Present employment status, salary, and employer
A statement of the candidate's vision for the University in the next (5) five years in not more than 1,000 words and not less than 600 words
Extra-curricular activities
Names and addresses of three Referees.
Applications are to be submitted to:
Odira Patience Egbonuba,
SA to the Founder,
Jewel University, Gombe,
C/O Jewel Foundation Head Office,
Shongo Idrisa, Gombe,
Gombe State.
Candidates are also requested to send scanned copies of their Applications, including the candidate's Curriculum Vitae and scanned copies of Certificates and Credentials to: jeweluniversitygombe@gmail.com using the Job Title as the subject of the mail.
Note: The listed Referees are to mail their reports to the Founder under a confidential cover in a sealed envelope clearly marked "Referee's Report – Academic Secretary", to reach the Founder on/or before the Application closig date.