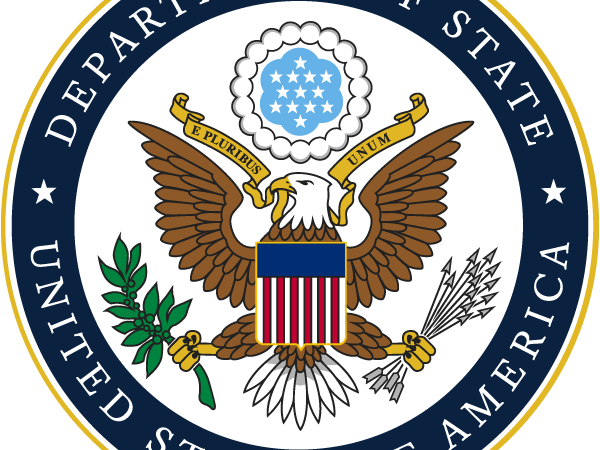 The U.S. Mission to Nigeria comprises of the Embassy in Abuja, FCT, and the Consulate General in Lagos. U.S. Consulate General Lagos is the Mission's representative to the Nigerian people in the southern region.
We are recruiting to fill the position below:
Job Title: Public Health Specialist (Treatment) – All Interested Candidates (Senior Program Specialist HIV Care & Treatment)
Announcement Number: Abuja-2023-072
Location: Abuja
Work Schedule: Full-time – 40 hours per week
Hiring Agency: Embassy Abuja
Series / Grade: LE – 0550 11
Promotion Potential: LE-11
Overview
Hiring Path: Open to the public
Who May Apply/Clarification From the Agency: For USEFM – FP is 4. Actual FP salary determined by Washington D.C.

All Interested Applicants / All Sources

Security Clearance Required: Public Trust – Background Investigation
Appointment Type: Permanent
Appointment Type Details: Indefinite subject to successful completion of probationary period
Summary
The work schedule for this position is: Full Time (40 hours per week)
Start date: Candidate must be able to begin working within a reasonable period of time (6 weeks) of receipt of agency authorization and/or clearances/certifications or their candidacy may end.
Supervisory Position: No
Relocation Expenses Reimbursed: No
Travel Required:

50% or less
This involves periodic site visits and meetings with representatives of each organization to review progress and provide updated technical information.
Duties
The incumbent is a senior project manager and key public health advisor on treatment to the Branch Chief and Team Lead. Position is responsible for providing strategic advice and project support to the President's Emergency Plan for AIDS Relief (PEPFAR); contributing leadership to the planning of a national program of care and treatment for People Living with HIV (PLHIV), assisting in the development and coordination of assessment activities, and establishing the program's guidelines, procedures and strategies.
This position provides the CDC office with the necessary public health leadership and medical expertise to manage CDC sponsored care and treatment activities.
The incumbent assures collaboration among PEPFAR Nigeria partners involved in HIV/AIDS care and treatment programs and takes the lead in promoting use of internationally recognized best practices in care and treatment among PEPFAR sponsored programs in Nigeria.
The incumbent is responsible for ensuring that CDC-Nigeria's implementing partners achieve extremely ambitious targets for care and treatment over the next few years.
Qualifications and Evaluations
Education Requirements:
MD or MBBS is required. In addition, a Post-Graduate Degree in Public Health (MPH) or MSc, or Post-Graduate Medical Fellowship in Internal Medicine, Infectious Diseases, Pediatrics or Public Health is required.
NYSC Certificate or Exemption document is required.
Experience:
Minimum of five (5) years public health experience in the management of HIV treatment programs at local, state or international levels that entails responsibility for evaluation of program activities.
Experience in developing, implementing and evaluating HIV/AIDS care and treatment programs that involve coordination with an international agency or implementing partner.
One (1) additional year of experience at the managerial level is required.
Job Knowledge:
Comprehensive knowledge and experience in HIV/AIDS treatment is required.
Thorough public health knowledge of current HIV/AIDS issues is required.
Strong skills in the clinical management of HIV/AIDS.
Comprehensive knowledge of the host government health care system and structures including familiarity with MOH policies, program priorities and regulations is required.
In-depth knowledge of USG HIV/AIDS public health programs, strategies, methods, processes and techniques used to plan, develop, implement and evaluate results of treatment programs is required.
Good working knowledge of team management techniques to plan, organize and direct multi-disciplinary project teams and activities and overall administrative requirements, budgeting and fiscal management in support of contracts/cooperative agreements/grants/purchase requisitions is required.
Evaluations:
This may be tested. Applicants must specify level of proficiency in the language(s) listed.
Language:
Fluency in speaking/reading/writing of English Language is required.
Skills and Abilities:
Strong oral and written communications skills are required.
Ability to analyze, understand and discuss new program design, management and implementation approaches is required.
This includes the development of evaluation designs, use of reliable and valid instruments, and methods for data collection, analysis and reports.
Ability to lead project teams and work groups and to develop effective working relationships with national and international working partners is required.
Strong skills with interpretation of program monitoring and evaluation of data are required.
The incumbent will be expected to exercise considerable ingenuity and tact in applying guidelines to unique and different settings. Intermediate user level of word processing, spreadsheets and databases is required, Strong skills with interpretation of program monitoring and evaluations of data are required.
Experience with conducting research including study design, implementation, data analysis and report writing is required evidenced by at least two publications related to HIV Care and Treatment in peer review journals.
The incumbent will also be expected to exercise considerable innovation during his/her attempts to influence other collaborative organizations engaged in HIV/AIDS care and treatment programs to adopt appropriate strategies for their program activities.
Incumbent should possess standard computer skills with experience/training for word processing and spreadsheets, and ability to produce documents with graphical representation.
Position requires good keyboard skills with speed and accuracy.
Equal Employment Opportunity (EEO):
The U.S. Mission provides equal opportunity and fair and equitable treatment in employment to all people without regard to race, color, religion, sex, national origin, age, disability, political affiliation, marital status, or sexual orientation.
Qualifications:
All applicants under consideration will be required to pass medical and security certifications.
Hiring Preference Selection Process:
Applicants in the following hiring preference categories are extended a hiring preference in the order listed below.
Therefore, it is essential that these applicants accurately describe their status on the application. Failure to do so may result in a determination that the applicant is not eligible for a hiring preference.
Hiring Preference Order:
AEFM / USEFM who is a preference-eligible U.S. Veteran*
AEFM / USEFM
FS on LWOP and CS with reemployment rights **
* Important
Applicants who claim status as a preference-eligible U.S. Veteran must submit a copy of their most recent DD-214 ("Certificate of Release or Discharge from Active Duty"), equivalent documentation, or certification.
A "certification" is any written document from the armed forces that certifies the service member is expected to be discharged or released from active duty service in the armed forces under honorable conditions within 120 days after the certification is submitted by the applicant.
The certification letter should be on letterhead of the appropriate military branch of the service and contain (1) the military service dates including the expected discharge or release date; and (2) the character of service. Acceptable documentation must be submitted in order for the preference to be given.
** This level of preference applies to all Foreign Service employees on LWOP and CS with re-employment rights back to their agency or bureau.
For more information (i.e., what is an EFM, USEFM, AEFM, MOH, etc.?) and for additional employment considerations, please visit the following link.
Marketing Statement:
Remuneration
N20,830,167 / USD62,523 Annually.
Agency Benefits:
Locally Employed Staff, including Members of Household (MOHs), and Third-Country Nationals (TCNs), working at the U.S. Mission in Abuja. Niigeria may receive a compensation package that may include health, separation, and other benefits.
For EFMs, benefits should be discussed with the Human Resources Office.
The pay plan is assigned at the time of the conditional offer letter by the HR Office.
Application Closing Date
20th July, 2023.
How to Apply
Interested and qualified candidates should:
Click here to apply online
Important Information
All candidates must be able to obtain and hold a Public Trust clearance.
To apply for this position click the "APPLY TO THIS VACANCY" button at the top of the page.
Click on the "Submit Application" button to complete your application process.
For more information on how to apply visit the Mission internet site.
Required Documents
To qualify based on education, you MUST submit the requested degree and / or transcripts as verification of educational requirement by the closing date of this announcement. Failure to provide requested information, or the information is insufficient to verify eligibility, may result in disqualification for this position.
All Applicants:
Residency and/or Work Permit
Degree (not transcript)
NYSC Certificate or Exemption document
Certificate or License
Eligible Family Member Applicants:
Copy of Sponsor's Orders/Assignment Notification (or equivalent)
DD-214 – Member Copy 4, Letter from Veterans' Affairs, or other supporting documentation (if applicable)
SF-50 (if applicable)
Next Steps:
Applicants who are invited to take a language or skills test, or who are selected for an interview will be contacted via email.
For further information – the complete position description listing all of the duties, responsibilities, required qualifications, etc. may be obtained by contacting the Human Resources Office.
Thank you for your application and your interest in working at the U.S. Mission in Abuja, Nigeria.