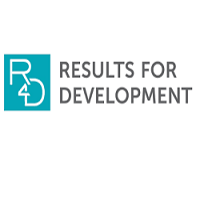 Results for Development (R4D) is a global nonprofit organization working with partners in more than 55 countries to find new ways to help people escape poverty and reach their full potential. We apply fresh thinking and rigor to emerging and stubborn development challenges-particularly within the fields of health, education and governance-and we pioneer and advance creative, high-impact solutions. We do this by conducting analysis and generating evidence that helps to inform and influence decision-makers; building platforms and networks that connect people and ideas; by providing direct support to local change agents; and combining these approaches to deliver meaningful and lasting results.
Job Type: Full Time
Qualification: MBA/MSc/MA
Experience: 12 years
Location: Nigeria
Job Field: NGO/Non-Profit , Project Management
Position Summary:
The Program Director provides strategic and technical direction to R4D's Education Practice. Central to this role is stewardship and refreshing of the team's Education Strategy. We are particularly eager to identify a leader who is passionate about building R4D's program portfolio, working directly with ministries of education and their partners to design, test, and adapt education programs and policies.
The Program Director assumes primary ownership for ensuring the delivery of high-quality support across all programs that are not part of EdTech Hub (which is led by other leaders on the education team). This includes providing substantial, technically-sound inputs into all stages of project delivery, from conceptualization to implementation to dissemination.
The Program Director is responsible for building a high-impact pipeline of projects in line with the Education Practice and R4D organizational strategies. The Program Director's role in program creation and business development is multi-faceted, including developing new concepts that advance the Education Practice's goals, cultivating and strengthening relationships with donors, establishing partnerships with complementary organizations to jointly pursue work, and leading responses to opportunities aligned with practice capabilities and goals.
As a member of R4D's Program Leadership Group, the Program Director contributes to key organizational initiatives at R4D in collaboration with other practice leads while managing several members of the R4D Education Practice. We seek a leader who is committed to our team's goals of building our presence in Africa and Asia by not only adding new projects but building relationships with new partner organizations and hiring staff in those regions.
Finally, the Program Director helps raise the visibility and extend the impact of R4D's Education practice by serving as a thought leader in one or more of the practice's areas of focus. As a thought leader, the Program Director is expected to represent the team at high-level conferences and fora, engage with key decision makers at the country, regional, global levels, and identify new ways of sharing the team's work to maximize its uptake.
Responsibilities
Identify new opportunities for expanding the team's portfolio of projects both through the development of new concepts and by responding to calls for proposals. Lead responses to such proposals, including assembling teams to craft proposals, crafting technical approaches, and ensuring overall quality of submissions.
Ensure high-quality delivery of programs with portfolio.
Build and maintain strong relationships with multiple partners, including government leaders, funders, multilaterals, peer organizations, and local partner organizations,
Expand the impact of R4D's education practice by identifying and implementing creative strategies for disseminating work to increase its influence beyond our direct partners.
Cultivate innovative strategies for promoting the uptake of work among global, regional, and country audiences.
Lead recruitment efforts for members of the Education practice.
Manage several staff on Education Team
Lead cross-cutting set of education team activities, such as the development of a monthly newsletter and agenda development of team meetings.
Lead and/or contribute to cross-R4D management strategic initiatives. Represent education practice at Program Leadership Group.
Lead periodic reviews and updates to the education practice strategy.
Participates fully as a member of R4D by contributing, assisting, and participating in projects, activities, and initiatives as requested by management.
Qualifications
Advanced degree in international development, education, economics, or a related social science field.
At least twelve years of experience in international education, with at least 5 years of experience in senior-level management positions.
Experience overseeing large project portfolios and teams.
Extensive experience working in Africa and Asia; understands the needs of decision makers in African and/or Asian countries and is experienced at co-designing and implementing efforts to strengthen capacity.
Experience working in government or very closely with government is highly preferred.
Experience leading complex, multi-stakeholder projects.
Proven track record of mobilizing financial support for international development projects. Relationships with a range of key international education donors.
Proven experience conceptualizing and co-creating new project approaches.
Recognized expertise as a global thought leader in one or more of the following topics: early childhood development, out-of-school children, education financing, EdTech, non-state education, education innovation, or other areas related to education systems.
Track record of successful mentoring and coaching of mid-level and senior personnel
Strong organizational skills, and a capacity to handle multiple tasks under tight deadlines.
Excellent communication skills; including writing for multiple audiences and presenting to a range of different stakeholders (e.g. government officials, researchers, donors). Proficiency in a second language, especially French, is preferred but not required.
Highly collaborative and approachable team member who is enthusiastic about supporting the team and working closely with other senior leaders at R4D.
Method of Application