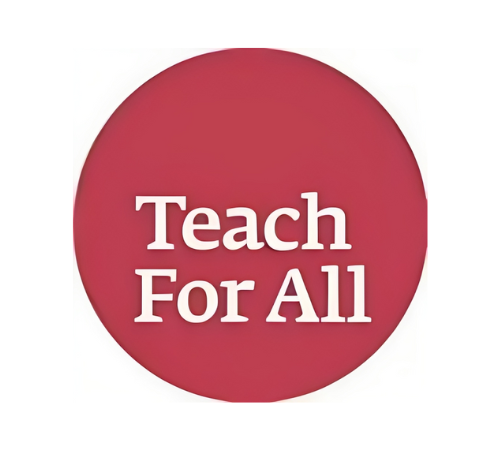 Teach For All is a global network of over 40 independent, locally led and governed partner organizations and a global organization that works to accelerate the progress of the network. Each network partner recruits and develops promising future leaders to teach in their nations' under-resourced schools and communities and, with this foundation, to work with others, inside and outside of education, to ensure all children are able to fulfill their potential. Teach For All's global organization works to increase the network's impact by capturing and spreading learning, facilitating connections among partners, accessing global resources, and fostering the leadership development of partner staff, teachers, and alumni.
We are recruiting to fill the position of:
Job Title: Leadership Director, Global Leadership Accelerator
Location: Nigeria (Remote)
Position Summary
We are seeking a Leadership Director for our Global Leadership Accelerator. Teach For All is working to grow collective leadership so that all children can fulfill their potential.
We recently launched an exciting new initiative, a Global Leadership Accelerator, to grow the leadership of tens of thousands of leaders who are working to reimagine education around the world. This includes hundreds of staff supporting 15,000+ teachers currently in classrooms, and close to 90,000 alumni leaders, reaching millions of children in 60 countries and growing.
The Global Leadership Accelerator is working to cultivate deeply conscious leaders who, grounded in a clear sense of purpose, are capable of working collectively in deep partnership with many others to disrupt inequitable systems and imagine new ways forward.
You will join an entrepreneurial team that is working to accelerate the leadership and impact of thousands of incredible social entrepreneurs, teachers and other leaders around the world who are reimagining education. You will play a key role in designing transformative leadership experiences, launching new experiments and partnerships, and supporting the growth of leaders across a global network. You will report directly to the Head of the Global Leadership Accelerator.
Responsibilities
You would be responsible for launching new leadership programs and scaling up successful efforts, globally and also within the Africa region. Type of initiatives might include:
Design and execute a new leadership program for CEOs and senior leaders to grow their leadership (e.g., navigating conflict, managing uncertainty, mobilizing movements)
Co-design a systems leadership fellowship to support emerging alumni leaders in positions of influence with their systems (e.g, policy leaders, school leaders)
Work with our Global Learning Lab to grow the leadership of thousands of teachers across our network in line with our latest research from transformational classrooms
Scale up a global suite of online management & leadership programs in partnership with our organizational development specialists and regional teams
Coach senior leaders to address limiting mindsets and beliefs
Contribute to our growing suite of initiatives to develop equity-centered leadership
Day-to-day Responsibilities may include:
Partnering with teams across the global network to diagnose leadership needs of key stakeholders (e.g., CEOs, senior leaders, managers, teachers, alumni)
Co-designing the vision & scope for new leadership development programs
Building strategic partnerships with external partners to co-create flagship programs
Leading project teams to manage delivery of leadership initiatives from initial idea to execution (e.g., design, communications, marketing, enrollment, delivery, measurement)
Leading workshops or coaching sessions with senior leaders
Capturing impact data and stories of progress so we can continually learn & adapt
Contributing your ideas to inform the broader strategic directions of the Accelerator
Requirements
8-10 years professional experience required
Experience working and/or living in the region required
Willingness and ability to reside and work (authorization) in region long-term required
Knowledge/Skills/Abilities:
You will show demonstrated strengths in many of the areas below, and will also be able to provide an honest self-assessment of where you need further support:
Expertise in leadership development and/or organizational development with demonstrated experience in coaching others, leading teams or working with senior leaders
May bring additional experience in one or more of the following areas: coaching, classroom and/ or school leadership, adult learning & development, systems leadership, community organizing, diversity, equity & inclusion, agile or adaptive leadership
Expertise in designing and facilitating in-person and/or online learning experiences, including community-building
Exceptional strategic thinking abilities with proven track record of diagnosing and solving complex problems and working with ambiguity
Strong relationship management skills, with ability to influence and mobilize others while working virtually and remotely; thrive in collaborative environments
Superior project management skills; self-starter who can manage and independently prioritize across multiple streams of work in a global, fast-paced dynamic environment
Demonstrates a commitment to disrupting inequitable systems and ability to work in diverse global environments
Operates with entrepreneurial spirit; able to envision and seed new opportunities.
External presence and judgment, with experience in building partnerships.
Committed to Teach For All's purpose, vision and core values.
Compensation
Salary for this position is competitive and dependent on country of hire, prior work experience and includes a comprehensive benefits package.
What Teach For All Offers:
Commitment to cultivating a culture in which all staff members feel they belong, are valued for their contributions, and have an impact on our organization's progress
Professional and personal development experiences and ample opportunities to make a positive impact on the work of Teach For All and beyond
Comprehensive benefits package designed for your well-being and work-life needs
All roles are 100% remote; in some locations we offer the option for in-office collaborations
Generous time off and flexible work arrangements
And much more!
Application Closing Date
Not Specified.
How to Apply
Interested and qualified candidates should:
Click here to apply online
Note
If this opportunity sounds like the next best step in your career, please submit your resume or curriculum vitae (CV) and a one-page letter of motivation (in English). Your letter should summarize motivations for your application and how your skills and experience align with the terms of this opportunity.
We look forward to learning about you and your passion for ensuring educational opportunity for all!
Applications are reviewed on a rolling basis. Therefore, candidates are encouraged to apply at their earliest convenience.
Work Authorization: This position is not eligible for employment visa sponsorship. All candidates must possess local permanent work authorization/permit in order to be considered.
Travel and Hours: Travel is possible when it is safe to do so and in accordance with local travel guidelines. Given that we work across different time zones, some non-traditional hours for early or later calls are an expectation of this role.