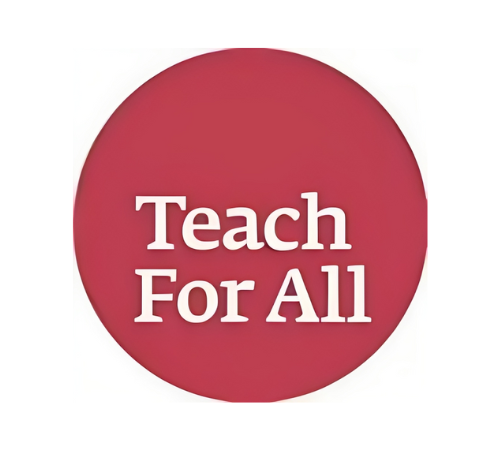 Teach For All is a global network of over 40 independent, locally led and governed partner organizations and a global organization that works to accelerate the progress of the network. Each network partner recruits and develops promising future leaders to teach in their nations' under-resourced schools and communities and, with this foundation, to work with others, inside and outside of education, to ensure all children are able to fulfill their potential. Teach For All's global organization works to increase the network's impact by capturing and spreading learning, facilitating connections among partners, accessing global resources, and fostering the leadership development of partner staff, teachers, and alumni.
We are recruiting to fill the position of:
Job Title: Accounting Associate, Finance
Location: Nigeria (Remote)
Position Summary
To advance Teach For All's 25-year vision and intended outcomes, we are seeking an Accounting Associateto manage key financial processes and operations, including revenue, global payments, bank reconciliations, month and year close processes, and supporting our grants making function.
This position requires someone who is good at managing stake holder relationships and is detail oriented.
The 9-member Finance team, with its staff members currently based in India, Kenya, Belgium, and the United States enables the ~$50M, multi-entity, multi-currency financial operations of Teach For All. The team operates in a fast-paced, dynamic environment, striving for both strong controls and effective, efficient support towards Teach For All's mission.
You will report to the Director, Accounting ; however, you will also work closely with other members of the Finance team, including the Senior Director, Subgrants and Contracts.
As the Accounting Associate at Teach For All, you will engage in the following and/or similar activities:
30% – Accounts Receivable Management:
Generate invoices to donors and working closely with the fundraising team to collect the required back-up documentation
Draft AR invoices in financial system, and other AR processes including reconciliation of revenue across different systems
Liase with the fundraising team to follow up on outstanding payments
25% – Accounts Payable and Vendor management:
Manage AP processes including vendor setup and global payments
Liase with payment providers and bank to troubleshoot and resolve payment issues
Assit with invoice reviews
20% – Month/year close processes:
Draft journal entries for intercompany transfers, bank fees, interest etc.
Reconcile cash receipts and disbursements to the general ledger in a timely manner
Assist with balance sheet accounts reconciliations
Draft allocation and reclassifying journal entries for the different entities as maybe required
15% – Grantmaking Function support:
Submit invoices for grants to network partners and reconcile payment details across systems
Process foreign currency grants and reconcile ForEx impact.
Support the subgrant liquidation and reconciliation process across systems
10% – Other Projects:
Assist with Audit Preparation
Assist with Tax Filing
Other ad hoc projects
As the Ideal Candidate, you will Bring
1-3 years of accounting experience and a working knowledge of basic accounting principles and practices
Experience with cloud-based software (ERP systems, expense/invoice software, Salesforce/CRM platforms, payment platforms) is a plus
Intermediate-level Microsoft Excel skills required, comfort with Excel shortcuts and ability to operate quickly in Excel is a significant plus.
Experience in a global financial environment is a plus (specifically multi-currency and/or multi-entity management)
Non Profit accounting experience is a plus but not required
Audit experience is a plus but not required
Exemplifies Teach For All's core values and a commitment to Teach For All's mission:

Reflects a sense of possibility in mindset and vision
Believes in the value of being locally rooted and globally informed
Drives toward constant learning and improvement
Convinced of the necessity of diversity and inclusiveness in our work
Believes in the interdependence between us and our partners in solving this global problem
Additional Desirable Skills / Experiences:
Excellent attention to detail
Strong written communication skills
Ability to build strong relationships and work with diverse individuals
Exceptional team and collaboration skills.
Compensation
Salary for this position is competitive and dependent on country of hire, prior work experience and includes a comprehensive benefits package.
What Teach For All Offers:
Commitment to cultivating a culture in which all staff members feel they belong, are valued for their contributions, and have an impact on our organization's progress
Professional and personal development experiences and ample opportunities to make a positive impact on the work of Teach For All and beyond
Comprehensive benefits package designed for your well-being and work-life needs
All roles are 100% remote; in some locations we offer the option for in-office collaborations
Generous time off and flexible work arrangements
And much more!
Application Closing Date
Not Specified.
How to Apply
Interested and qualified candidates should:
Click here to apply online
Note
If this opportunity sounds like the next best step in your career, please submit your resume or curriculum vitae (CV) and a one-page letter of motivation (in English). Your letter should summarize motivations for your application and how your skills and experience align with the terms of this opportunity.
We look forward to learning about you and your passion for ensuring educational opportunity for all!
Applications are reviewed on a rolling basis. Therefore, candidates are encouraged to apply at their earliest convenience.
Work Authorization: This position is not eligible for employment visa sponsorship. All candidates must possess local permanent work authorization/permit in order to be considered.
Travel and Hours: Travel is possible when it is safe to do so and in accordance with local travel guidelines. Given that we work across different time zones, some non-traditional hours for early or later calls are an expectation of this role.