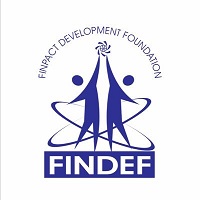 Finpact Development Foundation (FINDEF) is an indigenous non-governmental organization. Our focus is on delivering lasting value through the work we do, making us trusted advisors to all our partners. We are actively involved in the food security, livelihood and education projects, as well as government-led NGO coordination committee platform. Our local presence, capacity, experience, relationships, understanding of local culture and context are all major factors that enable us deliver humanitarian response. We are guided by humanitarian principles and our working philosophy with partners includes commitment to transparency, accountability, shared goals, honesty and trust. We keep a fast paced environment where self-motivated and independent Individuals who are looking to constantly develop themselves thrive well. We pride ourselves in working at hard to reach communities while maintaining keen focus on culture and management structures that support excellent interaction with partners and stakeholders.
We are recruiting to fill the position below:
Job Title: Agronomy Assistant
Locations: Sokoto and Zamfara
Job Summary
The Agronomy Assistant will assist in the organization's, implementation, and monitoring of on-farm Livelihood programs daily in keeping with FINDEF's procedures and standards.
(S)He shall be responsible for assisting in the management and implementation of FINDEF's Livelihoods and resilience building program component in North-West for targeted host community members, and other affected populations.
Under the direct supervision of the Agronomy Officer, the Agronomy Assistant is required to support/assist in the implementation of agriculture activities of the project through livelihood interventions, business management, technical training, and capacity building to improve skills or production in new/pre-existing livelihood assets.
Main Responsibilities
Assist in organizing farmers into producer associations for collective marketing, input supply, training, and advocacy for a conducive production environment and Government support.
Assist in facilitating farmer/association participation in multistakeholder platforms for value chain development
Help farmers understand and address the climate-related production risks throughout the selected value chains, identifying where emerging market opportunities exist, taking into account community needs, and developing production plans that are integrated throughout the value chain
Strengthen the ability of the farmers to adapt to climate change within the selected value chains to moderate potential damages, take advantage of opportunities, or cope with consequences
Promote climate risk management strategies to avoid unacceptable consequences.
Improve crop productivity using locally adapted technologies, heat tolerant and disease tolerant seed varieties, biodiversity, and increase the sinks of greenhouse emissions.
Reduce crop losses through improved post-harvest handling, storage, and processing.
Train the extension workers and community volunteers to expand the agriculture advisory services and explore the use of appropriate communication systems
Establish farmer field schools and demonstration plots for farmer participatory training, learning, and research.
Building trust between the production and marketing associations and traders/ buyers (promote information flow between the associations and buyers and input suppliers, help associations make sense of the market information, produce visual aids to promote information flow on product quality)
Create alternate ways for the associations to sell products and contact buyers.
Develop relationships between buyers and associations, mentoring the producers on negotiation and building their confidence to engage in commercial contracts.
Work with traditional committees to ensure the identification and selection of the most vulnerable beneficiaries for cash/assets for work and organize and supervise the identification and selection registration of beneficiaries for the on-farm Livelihood activities.
Facilitate community mobilization towards farmers' field school and smallholder gardening.
Support in the implementation of capacity-building training including field training and workshops for the target beneficiaries on vegetable production, seed conservation, farm management, and storage.
Supervise and compile information to ensure that the surveillance of the farming situation in the area of implementation of the program is achieving the expected result when required.
Implement field activities for targeted communities about agricultural activities and strengthen nutrition-sensitive agriculture with support from relevant State, LGA, and community stakeholders at LGA level.
Analyze the humanitarian situation, taking protection problems into consideration/Do no Harm Principle.
Act as a liaison with the local population and authorities to identify the needs, grievances, and major events that could have potential consequences for FINDEF activity.
Perform any other related duties or responsibilities that may be assigned by the supervisor.
Disclaimer:
This job description is not an exhaustive list of the skills, effort, duties, and responsibilities associated with the position.
Profile of the Candidate (Education, Training, Competences, Skills)
University Degree in any of the following disciplines: Agricultural Science, Agricultural Economics, or related field.
2-4 years of experience in connection with project management in the food security and / or livelihood sector, and preferably in a non-governmental organization of humanitarian and international character.
Previous experience in the food distribution field is preferable.
Ability to write reports.
Experience with survey methodologies, nutrition assessment and relevant data analysis
Previous experience working with an NGO or a Development organization.
Essential Skills & Experience:
FINDEF has zero tolerance to Sexual Exploitation and Abuse of beneficiaries. Protection from Sexual Exploitation and Abuse (PSEA) is everyone's responsibility, and all staff are required to adhere to the Code of Conduct, that enshrines principles of PSEA, at all times (both during work hours and outside work hours).
Familiarization with, and adherence to FINDEF's Code of Conduct is an essential requirement for all staff, in addition to related mandatory training.
Be professional, motivated, flexible, and culturally sensitive.
Experience in In-kind food distribution activities from planning to execution, monitoring and reporting.
Have excellent communication, writing and analytical skills.
Be excellent in communication skills and proficient in report writing.
Be resident and familiar with the terrain in Northwest Nigeria.
Excellent working knowledge of Microsoft Office programmes (Access, Outlook, Excel, Power Point, and Word).
Knowledge and experience in using database specific software.
Excellent communication, writing and analytical skills.
Preferred:
For gender balance within the team, females are preferred and strongly encouraged to apply.
Knowledge of the local language (Hausa and Fulfude).
Willing and able to be based and travel regularly within remote areas, where services are limited.
Strong level of autonomy to provide independent follow through on processing issues and concerns.
Excellent planning, organizational and time management skills
Application Closing Date
20th June, 2023.
Method of Application
Interested and qualified candidates should send their Resume (not more than 3 pages) and cover letter (not more than one page) detailing why they are qualified for this position, to: careers@findef.org using the job Tittle as the subject of the mail.
Note
FINDEF does not charge a fee at any stage of its recruitment process.
FINDEF's recruitment process is transparent and merit based. Lobbying of any form is not allowed and can lead to disqualification.
Any offer made to the candidate in relation to this vacancy notice is subject to funding confirmation.
This selection process may be used to staff similar positions in various project locations.
FINDEF is an equal opportunity employer and does not discriminate on the basis of race, religion, gender, sexual orientation or disabilities. Qualified women are strongly encouraged to apply.
Our organization procedures reflect our commitment to protecting children and vulnerable adults from abuse and exploitation. We are an equal opportunity employer.
We uphold the Humanitarian Principles: humanity, neutrality, impartiality, and operational independence.
We affirmatively engage the most vulnerable communities.