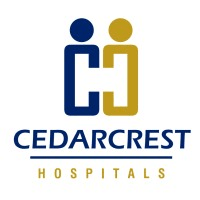 Cedarcrest Hospitals Limited was founded in Abuja in January, 2008. The hospital started as a mono specialty centre and was formerly known as Cedarcrest Orthopaedic Clinics Ltd. Within a few years the hospital expanded its scope of services and has become a leading private multispecialty hospital. The core vision of the organisation is to provide world class specialist healthcare services to patients in Nigeria and the West African sub region.
Cedarcrest Hospitals Ltd currently has four hospitals located in Abuja, Lagos, Kainji and Jebba having over one hundred (100) bed capacity without patient camps in several other cities across Nigeria. Our services and facilities span several specialities and include emergency / trauma centre, radiology diagnostic centre, prosthetic manufacturing plant, oxygen manufacturing plant, modular surgical operating theatres, gastrointestinal endoscopy suite and several other facilities that make for a modern multispecialty hospital.
We are recruiting to fill the position below:
Job Title: Radiographer
Location: Abuja
Employment Type: Full-time
This role reports to: The Head of Radiology
Purpose of the Role
Reporting to the Head of Radiology, the radiographer operates diagnostic and therapeutic equipment to examine and treat patients for illness, diseases, or injury.
You are to use such medical equipment as; Conventional X-ray Machines (X-RAY), Computed Tomography (CT) machines, Magnetic Resonance Imaging (MRI) machines, Ultrasound (USS) machines, Dual Energy X-ray Absorptiometry (DEXA) machines, Mammography (Mammo) machines, Fluoroscopy machines, C-ARM machines, Cardiac Catheterization Laboratory (CATHLAB) machines, Brachytherapy machines, Cobalt-60 and Linear Accelerator machines, etc, to examine patients illness, diseases or injury
Key Performance Areas
Responsible for the radiation safety of the patients, staff and the general public.
Performing all diagnostic medical imaging of patients and to acquire diagnostic images of the body parts examined.
Responsible for patient and equipment positioning for the purpose of acquiring images of the body part examined in order to rule out or rule in pathology. It is also your duty that ensure that the patient get as much comfort as possible while carrying out the examination.
Responsible for proper and correct identification of patients and examination intended and also explaining the intended procedure or examination to the patient.
Organizing the daily work or procedure schedules for the department. Ensures that patients are properly scheduled for their investigation and appropriate information given to them.
Making of requisition for the departmental supplies, and monitoring of same is handled by the radiographer but however, in partnership with the admin officer.
Proper and correct documentation of daily examinations and procedures performed in the department.
Responsible for counselling of patients scheduled for some procedures and examinations, getting informed consent from the patient or patients relative/guardian (if under age) before carrying out any investigation or examination on the patient.
Responsible for giving post examination counselling and information to the patient.
As the need arises, administers radiographic contrast media/agents to the patient while carrying out the examinations through either of the following routes; Intravenous (IV), Oral, Intracavitory, and Enteral.
Radiographers are responsible for the equipment and hence keeps log of equipment errors or fault. Also keeps log and schedule of machine maintenance and repairs.
Be ready to teach and train radiography students on clinical posting or placement.
Responsible for performing daily, weekly and monthly quality control (QC) and quality assurance (QA) test for the equipment.
Be ready to partner and work with other members of the healthcare team for the overall benefit of the patient. These members include; Nurses, referring physicians, porters, receptionists, professional colleagues and most importantly the radiologists.
Make sure that the medical images acquired are well archived and backed up in the PACS system.
Education, Certification and Experience Requirements
Bachelor of Medical Radiography and Radiological Sciences
Valid Practicing License.
Application Closing Date
Not Specified.
Method of Application
Interested and qualified candidates should send their CV in PDF to: careers@cedarcresthospitals.com using the Job Title as the subject of the mail.