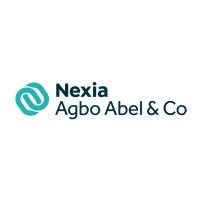 Nexia Agbo Abel & Co. – Our client, a well-established and reputable Non-Governmental Organization (NGO), is recruiting suitably qualified candidates to fill the position below:
Job Title: Finance & Controlling Manager
Location: Abuja (FCT)
Employment Type: Full-time
Job Description
Our client is seeking an individual who not only embodies technical proficiency but also holds a strong ethical stance, in alignment with the organization's core values and mission.
The role demands an individual who can wear multiple hats, embracing both traditional accounting responsibilities and the more contemporary challenges posed by today's financial landscape.
The successful candidate will find ample opportunity for professional growth, alongside a supportive team and a forward-thinking management structure.
Requirements
The eligible candidate is required to possess the underlisted skills in addition to role specific requirements:
Understanding the NGO/INGO sector
Excellent understanding of children's rights and child protection issues
Awareness and basic understanding of issues affecting orphans & vulnerable children, such as causes of vulnerability (e.g. HIV & AIDS, gender discrimination, poverty, etc.), local and national responses, etc.
Excellent command of written and spoken English – other languages, an asset.
Strong analytical and reporting skills, including ability to identify problems and possible solutions, and ability to clearly reflect these in a report.
Good communication skills and People development skills, including facilitation, coaching and mentoring skills, to build the capacities of co-workers from partner organizations; as well as of children and their caregivers, and other community members.
Collaboration skills, being driven to work with others and able to build strong working relationships community members and groups.
Fluent in at least one of the local languages spoken in the Programme's target communities.
Ability and willingness to travel as required within and between project/programme locations.
Ability to work successfully in a cross-cultural, team-based environment
Strong use of MS Office Word, Excel and PowerPoint, Office 365.
Position Summary
The Finance and Controlling Manager is responsible for:
providing financial advice and support to the National Director and National Management Team to enable them to make sound decisions.
Areas of forecasting (long-term perspective), budgeting, liquidity management, engaging in key figure and cost optimization analysis and reviewing operational performance.
Developing and monitoring risk management policies and procedures and ensuring that external control mechanisms are in place.
Developing and implementing internal finance policies and guidelines regulating processes related to finance as well as internal control in line with the vision, mission, strategy, policies, and standards of the organization.
Leading and supervising the national finance department
Representing the organization in the field of finance towards external stakeholders.
Knowing the tax regulations in a country and following-up on all legal changes that might have financial implications.
Timely and qualitative data submission to the National Director, Board of Trustees, Regional/International Office in accordance with the agreed quality standards as set forth by the organization's policies and regulation/guidelines.
She/He received technical support from the Regional Director Finance & Controlling or as assigned.
Key Performance Areas and Main Responsibilities
Management and Strategic Planning & Budgeting:
Manages the association's overall financial accounting, monitoring and reporting systems (incl. processes)
Responsible for the overall operations of the finance department, including the interaction and communication within and with other departments/ stakeholders as well as the design of an organizational structure adequate for achieving the association's goals and objectives.
Contributes to the strategic leadership of the association as part of the National Management Team and helps to develop the national strategy and business plan.
Prepares long-term financial prognosis and income portfolio analyses to meet the MA long-term strategic objectives.
Defines the budgeting process for the whole association, ensures that the association's budget is in accordance with the national strategic plan and requirements. (i.e. planning letter parameters)
Responsible for the overall budget control.
Accounting and Internal Control
Develops and implements an up-to-date documented system of accounting policies, financial procedures, and internal control guidelines (in compliance with local regulations and the organization's standards) within the entire association.
Keeps abreast of changes in financial regulations and legislation.
Ultimately responsible for timely and accurate accounting data submission to the National Director, Regional/ International Office.
Performs regular internal audits in the locations/facilities.
Financial Analysis and Reporting:
Defines a set of key financial parameters to assess and steer the current and future financial status of the association.
Engages in key figure and cost optimization analysis and in benchmarking studies to establish areas of potential operational improvement in the association.
Provides accurate financial information and reports to specific deadlines as requested by different stakeholders (i.e. ND, MA Board, Representatives, Finance Advisors).
Ensures that reports related to projects are submitted in due time (e.g. construction projects, projects financed by public grants etc.) and following existing organizational standards and/or special donor requirement.
Funds and Risk Management:
Monitors and analyses MA's liquidity status (predicting future trends, checking plausibility of forecasted local income and proper reflection of public grants, exchange rate development etc.)
Ensures that sufficient funds are available to meet on-going operational and investment requirements and informs the National Director in a timely manner on estimated liquidity shortfall proposing solutions.
Ensures counterbalanced income portfolio as well as efficient bank account structure/ conditions of the MA.
Develops and monitors risk management policies and procedures to ensure that programme and organizational risks are minimized.
External Audit:
Participate in the Selection (min. 3 offers) and is responsible for the contract with external auditor (to be approved by the board).
Ensures the timely submission and is ultimately responsible for the quality and completeness of the consolidated Annual Financial Statements of the Member Association (embedded in an entire audit package according to the organization's standards)
In case of qualified audit: approves Audit Progress Report (compiled by Chief Accountant or responsible/assigned finance & Controlling Advisor/staff) and is ultimately responsible for proper audit recommendations' follow-up.
Human Resources Development in Finance:
Establishes appropriate staffing patterns and ensures adequate staffing of the national finance department as approved by the National Director.
Supports recruitment and selection procedure of leading finance co-workers (i.e. national Chief Accountant/Finance & Controlling Advisor, location chief accountants/Accounts Manager).
Leads an effective and engaged finance team (incl. conducting PATs/ Feedback Talks), sets up and monitors execution of defined HRD measures.
Qualifications, Experience and Skills Requirements
Technical Skills
B.Sc. in Accounting or related field.
MBA / M.Sc. is an added advantage.
Professional qualifications/certifications in Finance related field.
Work Experience:
Minimum of 10 years (with at least 5 years supervisory experience)
Experience with writing proposals.
Project Management.
Result Based Management.
Sound knowledge of tax policies, bookkeeping, fixed asset management.
Excellent understanding of Financial Planning, Budgeting, Financial Reporting & Analysis.
Proven experience in Treasury operations.
Sound knowledge in Risk Management.
Soft Skills:
Excellent use of Microsoft Office.
Demonstrates high level of emotional intelligence.
Ability to work effectively with diverse teams.
Demonstrates strong critical and strategic thinking skills.
Demonstrates strong problem-solving skills.
Application Closing Date
14th September, 2023.
How to Apply
Interested and qualified candidates should send their Resume to: careers@nexianigeria.com using the Job Title as the subject of the mail.